binnersproject
design support for the other 90%
The mission of the Binners' Project is to re-value people and resources by facilitating Canadian waste pickers learning and exchange within cities and across Canada in order to build urban resilience, social inclusivity and connection, and to guide waste management practices and the development of new economic models.
The project took off in January 2014 as a brainchild of Ken Lyotier, Founder and former Executive Director of United We Can, a non-profit bottle depot in operation in Vancouver's Downtown Eastside since 1995.
---
I'm active for the binners'project and contribute my design skills for the project. The main issues are the visual design for the project and at the other hand I want to bring the latest Emily Carr
project
together with the target audience in public.
We also have some public events and I joined these event and made photographic documentations.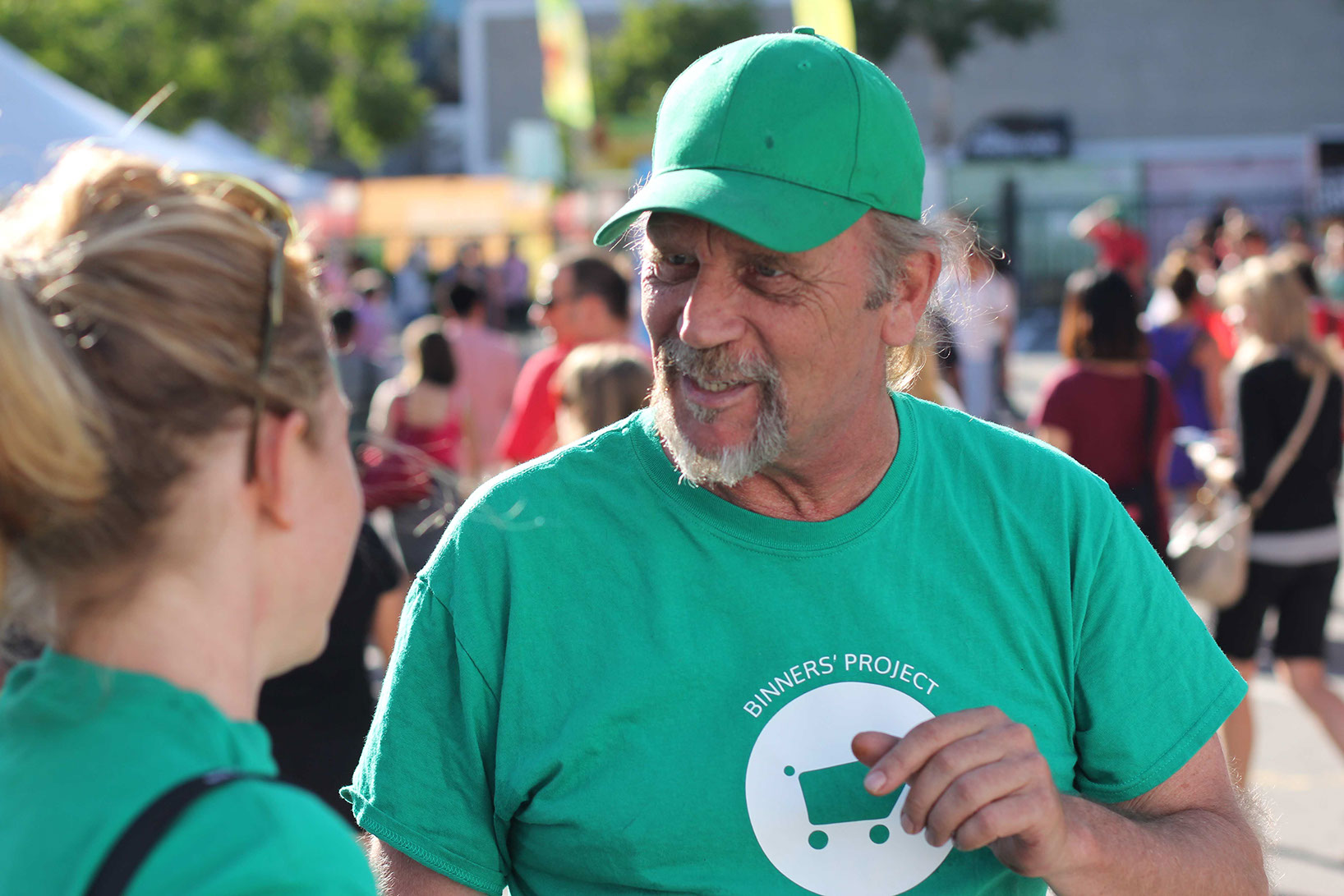 ---
What

Create a new logo for the binners project. After designing ± 12 more logos we talked about the logos at the binnersmeeting and did a voting about the logos and ask them for suggestions. I used the result of the voting to complete und optimize the final design of the logo.

After having done the final logo I began to generate different drafts from business cards, T-shirts, Postalcards and ID-Cards for the project.

After discuss the drafts with the project manager and the head organization Tides Canada we produced the T-Shirts and the Business cards.

The T-shirts and Businesscards with the lanyard give the project a professional face and it binds the group together.
---
Open-bridge

The other part of the activity of the project is to develop the
Open-Bridge
project in a collaborative way with the binners.
---
Meet Michael
A local binner (aka "waste picker") in the downtown eastside of Vancouver. He shares his past, how he became a binner, and the challenges he must face daily. Eventually, we discover his involvement in the Binners' Project, a group of waste-pickers dedicated to improving their economic opportunities, and reducing the stigma they face as informal recyclable collectors.

---